Here's another post from the "boring things indie game developers do which aren't game development" file.
A couple of weeks ago I wrote about how I had moved the C3O forum. This was because the old forum was running on Jay's server, and since Jay left Binary Space a few weeks ago, I needed to move C3O off his server.
Everything for binaryspacegames.com was also running on Jay's server, so I needed to move that too.
For the forum I decided to go with Forumatic who provide managed phpBB hosting, rather than having to set up and look after my own server. I wanted to avoid maintaining my own server for binaryspacegames.com too.
First, to host the DNS for binaryspacegames.com I'm using Namecheap FreeDNS. It's hard to argue with the price :) As Binary Space's domains come up for renewal over the next year or two, I'll likely switch to having them registered with Namecheap as well.

I moved the email for binaryspacegames.com to Google Apps. If I'd done this three weeks ago it would have been free, but now I have to pay $10 per month. Google used to offer a free version for less than 10 users, but recently removed that option. Oh well!

That just left the main www.binaryspacegames.com website, which was running on WordPress. Just like with our old forum, this was something which Jay set up ages ago, and which neither of us had wanted to spend time maintaining – and so we were running a version of WordPress which was about 3 years old.
I could have installed the WordPress.org software on my own new server, but I looked around at the options which would allow me to avoid doing that.

The first option I experimented with was WordPress's own hosted blog service, WordPress.com. This is a very easy way to get a simple WordPress site up and running quickly, although it's less flexible than running WordPress on your own server. This looked as though it could do most of what I needed, but there were a few small limitations which made me decide it wasn't quite right for Binary Space.
In the end I decided to go with page.ly. They do managed WordPress hosting – so they handle the installation and updates for WordPress, including the themes and plugins and so on. And they also manage a farm of servers to keep the site running fast.

Unlike WordPress.com, which only supports a limited number of themes and built-in plugins, page.ly can support almost any WordPress theme and plugin. I could have tracked down the theme we were using on the old version of www.binaryspacegames.com – although from a quick search it looks as though it hasn't been updated in 3 years either, and their site is now infected with malware. Here's how the old website looked: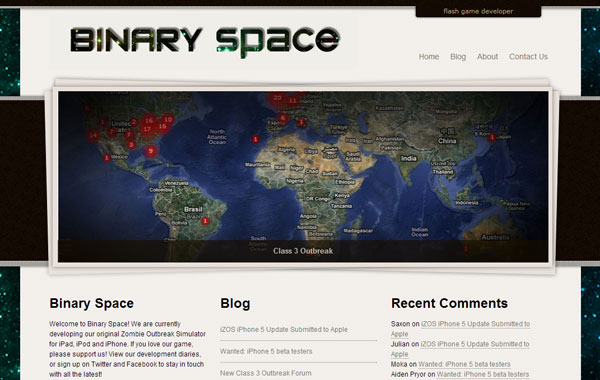 Instead I figured I'd make a break from the old version of the website, and go with something different. Rather than complicate things, I just browsed the numerous themes available within the theme browser of the WordPress dashboard, eventually settling on a simple theme called zeeSynergie. This is how the website looks now: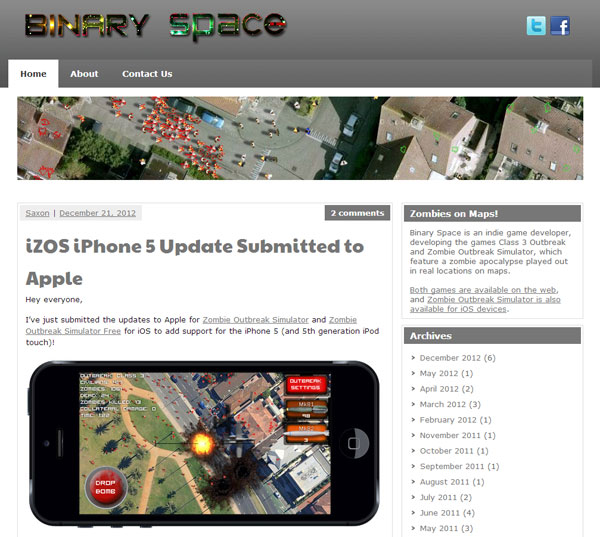 The new site is probably not quite as good looking as the old one (Jay had spent a bit of time customizing the graphics on the old one), but it's functional.
But most of all, it works, it should look after itself, and now I can get back to game development! :)
cya,
Saxon