Hey everyone!
It's been approximately forever since my last blog post. Way back in November 2014 I posted to announce that Zombie Outbreak Simulator (ZOS) for Android had finally been released. I thought I'd follow up with some details about how sales for ZOS have gone since then.
ZOS for Android was funded by the Australian government's Games Development Fund way back in 2013, which was run by Screen Australia. I applied for the funding in July 2013, and my initial plan had been to ask for $10k for development. I was encouraged to ask for $20k: $10k for development and $10k for marketing. In the end they gave me $30k. At the time I was 'cautiously optimistic' – would ZOS on Android earn more than the funding being supplied by the government? And so would it be a net positive for the Australian economy? Up to that point, ZOS for iOS had earned about $33k, so it seemed like a big ask. (Note: all the numbers in this post are in AUD – which are currently worth about 0.75 USD).
Most apps have a peak of downloads and sales just after launch, and then tail off quickly afterwards. The bulk of the income from the app comes during the first few months. This was the case for ZOS on iOS (shown below), and so I expected the same from ZOS for Android.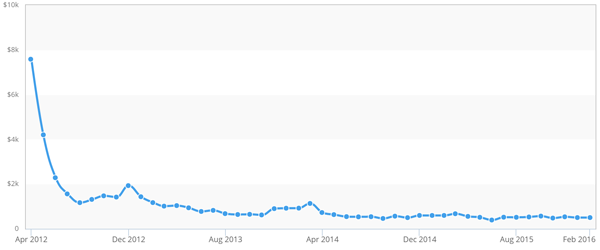 ZOS for Android launched with about $4k in the first month, and then dropped significantly to about $1,300 per month for the next three months. With sales declining and only about $8k so far, the target of $30k was looking way out of reach.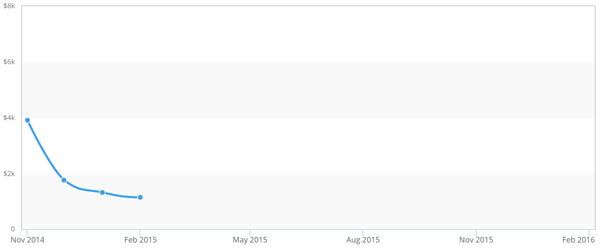 The funding from Screen Australia came in two payments: 80% ($24k) up front, and the remaining 20% ($6k) upon completion of the project. The completion requirements included spending the marketing budget (which I spread out over several months after release), and submission of a final report to Screen Australia.
I wrote up the report for Screen Australia at the end of May 2015. Monthly sales had picked up slightly to about $2k per month for the previous couple of months, bringing the total to only about $14k, not even halfway to the $30k of funding. I wrote up a fairly underwhelming report on the game's results, and sent it to Screen Australia.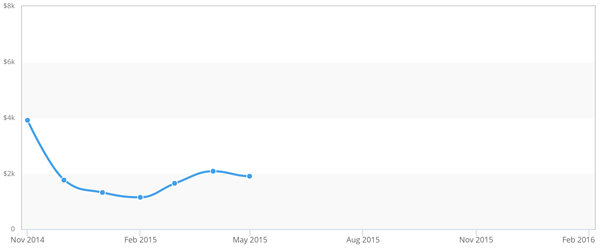 Sales had roughly stabilised for a few months. If it maintained that level, the game would eventually break even after about 8 more months. However I expected sales to go down over time.
But then, they didn't! Sales jumped up in July, and then again in October. As of November 2015, one year after release, ZOS for Android finally broke even – reaching $34k of sales!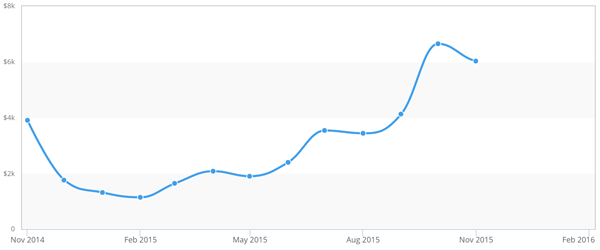 Why did it go up, even though I didn't do anything? In search of a reason, I checked Google Trends to see the search history for zombie.

Why the huge peak every October for the last 5 years?
My guess: The Walking Dead has aired starting in October every year for the last 6 years.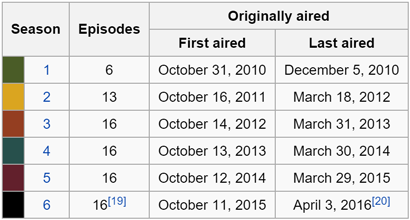 I'm guessing this results in a peak of interest in zombies every year, and is what has caused the increase in downloads and sales for ZOS in October. Sales have continued at roughly the October/November levels for the last few months as well. However I wonder if that means it'll drop off again after the current season of The Walking Dead ends in a few weeks?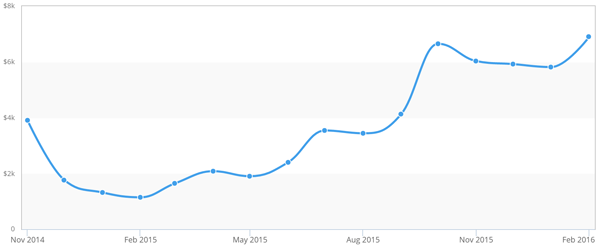 As of the end of February 2016, ZOS for Android has earned a total of about $58k AUD (about $43k USD), with over 350,000 downloads.
Way back in 2013 when I first applied for the funding, I was doing contract work, and so if the funding application was successful I planned to do the programming myself in amongst my other contracts, while James worked on the artwork. However by the time I heard back from Screen Australia (months later), I'd just started working at a new permanent job. So I decided I'd work part-time in my spare time around my full-time job, and also hire another programmer (Tim) part-time to help me out.
The original schedule for the project was to develop the game during January to April 2014, and release in May. However this turned out to be way too optimistic – we started about 1.5 months late and were nowhere near release by April. From May I decided to drop my full-time job down to 4 days a week (and so also drop my salary by 20%), and spend the other day a week working on ZOS, as well as my spare time too. Tim and James worked through until roughly August, and I continued until the release in November 2014 (with a bit of extra artwork from James here and there).
ZOS "broke even" in November 2015, by which I mean it reached the $30k of funding that Screen Australia had provided. But how much did it actually cost? Here's approximately how the breakdown of that funding went:
$17,700 – Artwork and programming by James and Tim
$9,000 – Marketing (advertising via Facebook ads)
$1,000 – Marketing consulting advice
$1,000 – Legal costs for Screen Australia's requirements
$600 – Screen Australia's admin fee
In total I put approx 700 hours of work into ZOS for Android. Adding up the costs above, there was only about $700 left over in the budget, that I was able to pay myself. So that worked out to a whole $1 per hour! :)
Fortunately, ZOS has now managed to earn some decent income. I've been able to pay myself a bit for the hours I put in to development, and buy some new dev equipment (computer and phone). Binary Space also now has some reserves of cash in the bank, which I can put towards future development.
So what am I planning to do next?
ZOS for iOS was first released in April 2012, with the last update released in May 2013. When developing ZOS for Android, we added a bunch of new features (soldiers, helicopters, player maps, and a completely new UI). The original plan after releasing ZOS for Android in November 2014 was to port all the new Android features back to the iOS version. At the time I wasn't sure how long that would take, but I estimated "early 2015". We're now over a year later, and there's been no update to ZOS for iOS :(
The main reason is that in January 2015 I started at a new job – actually I joined a new startup as a co-founder, working on 3D visualization tech for the mining industry. That made my 2015 extremely busy – there were times when I was working more than full-time to get stuff done. That meant very little time left over to work on stuff for Binary Space.
A second reason is that there is a bit of a trade-off between converting the Android version to iOS, and making sure the Android version is 'right' (more or less) to begin with. I've made a few updates to ZOS on Android since release, to fix bugs and tweak things here and there.
Fortunately, I'm now in a position where I think ZOS for Android is pretty much good to go, and I have a bit of spare time to work on things, as well as a bit of cash to hire people to help me if necessary. So the plan for the near future is to finally work on that iOS update that I promised ages ago!
cya,
Saxon