Way back in April 2011, Jay and I were lucky enough to be accepted into the Perth 2011 X|Media|Lab with Class 3 Outbreak. XML is an awesome conference / workshop, where the organizers bring in 16 digital media / cross-media / transmedia experts from around the world. On the Friday there is a conference open to the public, where each of the mentors speak on their area of expertise. Then over the weekend XML runs a workshop with 16 selected projects – we were selected for the Perth XML out of around 90 applicants. During the workshop you get to have one-on-one sessions with twelve of the mentors, for about 45 minutes each. It was an awesome experience – we got to meet some really great people, and do a lot of thinking about Class 3 Outbreak.
During one of the sessions with one of the mentors, we were brainstorming ways to promote C3O a bit, by coming up with some novelty games which players might find amusing – like making maps of famous locations, and/or putting in famous people. I had the idea of making a map of the Royal Wedding of Prince William and Kate Middleton, which was coming up soon and was all over the news at the time.
There were only 12 days between XML and the wedding, but Jay and I figured we could hack something together in time. So right after XML Jay got to work editing a map of Westminster Abbey where the wedding would be taking place, and I got to work hacking in some special named civs, a crowd of onlookers, and a few other bits and pieces.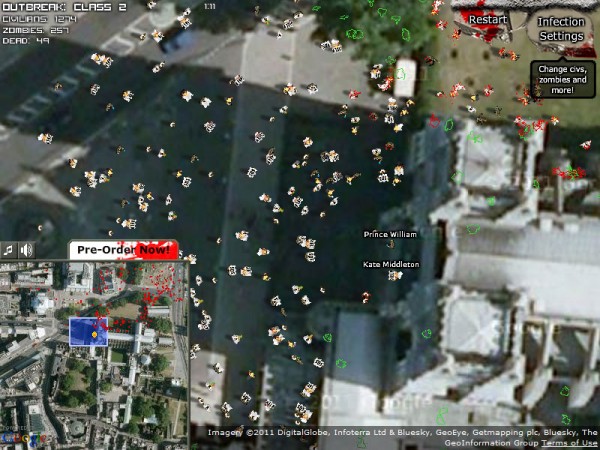 While Jay and I were working on this we thought it was pretty amusing, and so we thought there was a chance that it might "go viral", like the original Zombie Outbreak Simulator did when we released it in November 2009.
We had ads on the website, but typical ad rates are about $1 per 1000 visitors, so even if the map became wildly popular with a million hits, we'd earn about $1000. Nothing to sneeze at, but not enough to make a huge difference to C3O. Up until that point we had worked on C3O in our spare time, and so we wanted to try to get enough funds to support us to work full-time on the game, and grow Binary Space into a serious business.
After some discussion Jay and I decided to launch a crowdfunding campaign. We announced a number of features that we were planning to build, along with our plans to make C3O into a freemium game. The crowdfunding would therefore give players a chance to pre-order the premium features and future virtual currency at a discount. Our thinking was that if the royal wedding map was hugely popular, some (small) percentage of those visitors might decide to pre-order, and so we'd make a better return than from ads alone.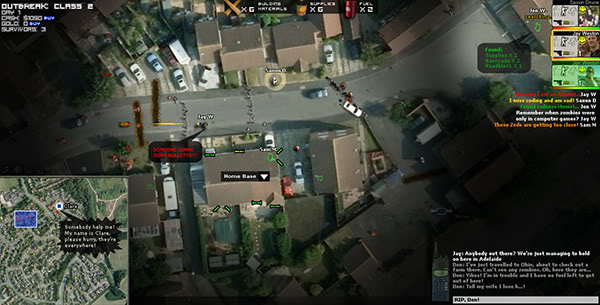 A couple of days after XML, when we'd just started working on the wedding map, we received word that we'd been awarded a grant of approx $10k from South Australia's Creative Industries Program. This was mostly for covering development equipment, as well as hosting costs, legal advice, music, software, advertising, etc.
We had also been awarded a grant of $50k from the South Australian Film Corporation back in December of 2010. However we hadn't announced that publicly, because we were still negotiating terms with SAFC.
By the time of XML it seemed like we were close to arranging a deal with SAFC. The plan for their funding was to hire a couple of third-party consultants, and the rest would be spent on salaries for Jay and myself. I had booked about two months time off from my day job, starting from mid-June. So we were planning to ramp up development on C3O in a big way.
So the angle we went for with our crowdfunding campaign was to announce that we'd received $60k in funding, which would last us a certain amount of time. The purpose of the crowdfunding was to extend that time as much as possible. There was no specific target amount that we needed to raise – the more we raised, the longer we'd be able to work full-time, and the closer we'd get to turning C3O and Binary Space into a sustainable business.
We chose IndieGoGo as our crowdfunding platform, because we're in Australia and Kickstarter required a US bank account. On Kickstarter the project only receives the funding if the target amount is reached, but IndieGoGo used a flexible model where the project would receive all funds regardless of whether the target was reached. (Back then this was IndieGoGo's only option – now IndieGoGo also offer a fixed funding option like Kickstarter). So we chose an arbitrary funding target of $50k. IndieGoGo's fees are higher if you don't reach your target – so there's an incentive to have a lower, more realistic target. However we didn't want to be in the situation where the campaign was crazily successful but people stopped pledging because we'd reached some arbitrary target amount.
On the 27th of April – two days before the royal wedding – we launched the crowdfunding campaign, along with releasing the royal wedding map.
The royal wedding map was mildly successful. It built a small amount of buzz, seeing about 40,000 hits over the next week (spiking on the day of the wedding). It got featured on Gizmodo (and Kotaku) and even the Wall Street Journal! However it wasn't the runaway success that we had thought it might be. Although, it is still the most played map in C3O – having been played a total of 70,000 times, compared with about 20,000 times for the next closest map.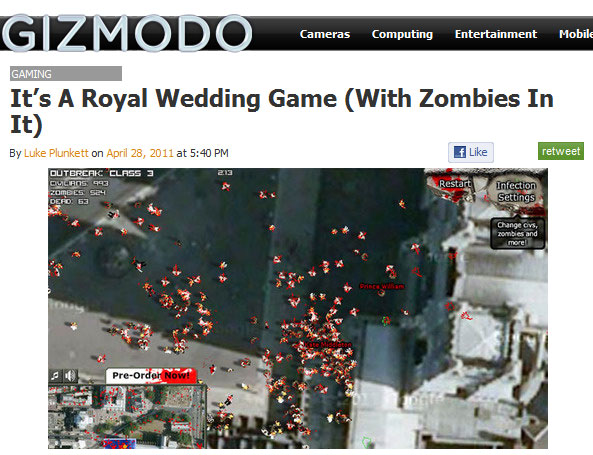 It's impossible to tell, but it didn't seem like the wedding map had any obvious effect on the crowdfunding campaign. We received some pledges during that time, but there was no obvious spike. It didn't seem to draw any new players to the game – the number of visitors to the website was roughly the same before and after the wedding. In hindsight there was probably no point in trying to rush out our crowdfunding campaign along with the wedding map.
We ran the crowdfunding campaign for about 2 months, up to the beginning of July. In total we raised $1,325 from 44 people – including 6 people who put in $100 each! This seems like not much compared with the $50k target we'd set, but that had been an arbitrary number. We were actually really pleased with the amount we'd raised – it proved that there were people out there who really liked our game, and were even willing to pay for it! :)
By mid-June 2011, everything seemed to be going great. We had started working full-time on C3O, and Jay and I decided to pitch in some of our own money to hire a couple of extra developers. But then everything fell apart when the funding from SAFC fell through. We had to let the extra developers go to keep costs down.
Of the $1,325 pledged in the crowdfunding campaign, after IndieGoGo's fees, PayPal fees, and currency conversion fees, we received $1,006. This helped keep us afloat – we used it to pay our developer Luke, who had developed some cool features in his short time with us – like building barricades, the show buildings button, and improving the map moderation system. But Jay and I also had to put in quite a bit of our own cash, to cover the rest of Luke's salary, to pay our other developer David, and to cover boring business expenses like accounting. Plus I had to dip into my mortgage to cover the salary I'd lost from taking time off my day job.
At this point C3O wasn't earning anything, but we still had the $10k grant. However the bulk of that grant had been to cover the cost of hardware so we could produce a mobile version of the game (Macs, iPhones, iPads, etc). We had hired the second developer David to work on porting the game to iOS, while I worked on C3O with Luke. So after we had to let David go, I took over development of the iOS port. This is why in September 2011 we announced that we were putting the web version of C3O on hold for a while, to focus on bringing Zombie Outbreak Simulator to iOS.
At this stage I felt guilty for taking people's money to develop C3O, and then shelving the project while we worked on ZOS. But we hoped that we'd be able to earn a decent income from ZOS, to be able to afford to get back onto development of C3O after ZOS was released.
Finally in April 2012 we released Zombie Outbreak Simulator for iOS!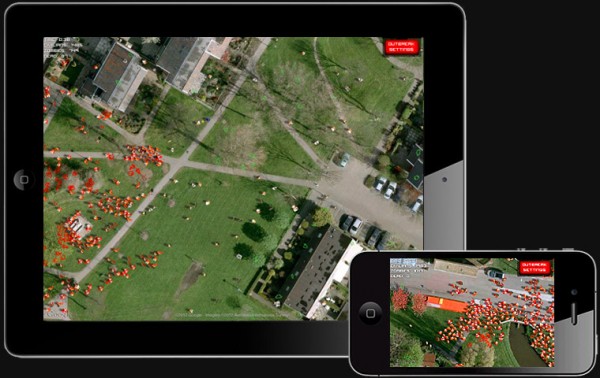 During the first week on the App Store we made a profit of $3,900. On the one hand this was awesome – it was more profit than we'd made in 2.5 years of developing the web versions of C3O and ZOS. But on the other hand it wasn't much – sales were already heading down after their peak on the second day, it didn't cover the debts Jay and I had gotten into, and it wasn't enough to jump back into development of C3O. As well as that, Google had announced that in September 2014 they would close down their Flash Maps API (which C3O uses), and so we would need to rewrite the whole game in JavaScript. So later in April 2012 we announced that we were going to keep working on ZOS, keeping the web version of C3O on hold more-or-less indefinitely.
Once again I felt bad for not delivering on the promises from our crowdfunding campaign. I wondered if we should offer people a refund – but we couldn't really afford it. Plus we still hoped that one day we'd be able to get back onto the web version of C3O.
After a few updates to ZOS on iOS we went quiet for a while. Then in December last year I announced that Jay and I had decided to part ways – Jay had left Binary Space, and so I had taken over. I will be gradually buying out Jay's share of Binary Space over the next several years.
My current strategy is to keep developing both the web version of C3O and the iOS version of ZOS in parallel. So far I've released about 4 updates to C3O, released an iPhone 5 update for iZOS, and I'm about halfway there on bringing Google Maps back to iZOS. I'm making progress, but it's quite slow as there is only one of me, and I'm only able to work on it part-time. The general area I've been focusing on for C3O so far is giving map authors more ability to choose how their maps are played (such as infection settings, start position, objectives, etc).
Anyway, to finally get to the point of this blog post :), I've now decided to offer a refund to everyone who supported us during the crowdfunding campaign.
When we launched the campaign we thought we'd be able to deliver many of the planned features within a few months, with the funding from SAFC. The remainder would be covered by the crowdfunding funds, and then we'd finish up the rest in our spare time. However it's now been nearly two years since we ran the campaign, and virtually none of those features have been developed. At this stage I don't know if or when any of them will ever be developed. Although I am working on C3O again, the direction it takes may change based on player feedback over time. Plus there's the looming deadline of September 2014, which raises two issues – will I be able to rewrite the game in time, and even if I do, how much longer will that take.
Due to all of the above, I don't think it's fair for me to keep holding onto your money. I'm very thankful for the support you showed us, and it really helped us through a tough time. I would have liked to offer you a refund back when we put C3O on hold those couple of times, but we couldn't afford it then. I would have offered this refund when I took over Binary Space in December, but it was still underwater. In January of this year Binary Space finally broke even. So after receiving another payment from Apple for sales of ZOS in February, I can now finally afford to offer you a refund!
After I publish this blog post I'll send an email to everyone who made a pledge to the crowdfunding campaign, to ask if you'd like a refund. If you don't receive an email (maybe you've changed your email address since then), get in contact with me and we'll work out a way to prove that you are who you say you are.
If you're in Australia I'll be able to send your refund directly to your bank account. Otherwise I can send you a refund via PayPal – which you can then use to buy stuff on other sites (or maybe withdraw to your bank account).
As an alternative option if you'd prefer, I can make a donation to the World Wildlife Fund (the Australian branch) "in your honour", for the amount you pledged.
Finally, if you'd still like to support Binary Space, then you are of course very welcome to just make your pledge a general donation. The class3outbreak.com website has a donate link hidden away at the bottom of every page, and over the years we've received a few small donations. If you'd like to do this, just let me know and I will make sure I spend the money on something worthwhile to keep Binary Space going. And I'll be eternally grateful to you as well! :)
Of the 44 people who pledged to our campaign, six of them pledged $100. These six people are the only ones to have received some of the promised perks from the campaign. They are listed on the credits page of C3O, and also in the credits screen of ZOS for iOS, as well as appearing as named civs which you can recruit within the game. If you are one of these six people, even if you ask for a refund or donation to WWF, I won't remove you from the credits or the named survivors. So you don't have to worry about losing out on anything, or anybody else knowing that you asked for a refund.
Also, for everybody who pledged, if or when I do ever add some kind of premium features to C3O in the future, I will try to give you some kind of free perk if I can. This will be given to you regardless of whether you ask for a refund or donation to WWF now, as a way of saying thanks for the support you gave us during the campaign :)
Now, back to developing the next update for C3O – the 'rescue a person' objective!
cya,
Saxon