Hi everyone,
In my blog post of a couple of weeks ago, I said that I wanted to try to bring Google Maps back to Zombie Outbreak Simulator on iOS. Eventually I want to bring the approx 2000 maps available on class3outbreak.com to ZOS on iOS.
It's been a few months since I last touched XCode, so to get back into the swing of things I thought I'd do a quick update before tackling Google Maps. So I'm going to upgrade iZOS to support the iPhone 5 which was released a few months ago (just after our last update).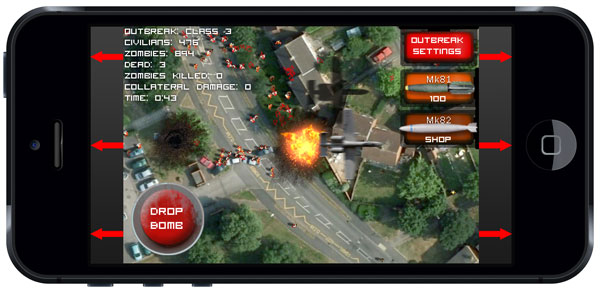 All I need to do is stretch iZOS by another 176 pixels. This shouldn't be too hard, as most of the sizing and positioning is calculated dynamically already. There'll just be a few full-screen images which I'll need to update, like the map selection screen.
However, I don't own an iPhone 5 to test it with – so I'm looking for a few beta testers.
If you're interested in being a beta tester, send me an email via the contact form. It would be good if you've already played iZOS before (either on your iPhone 5, or another iDevice), so you'll know what to expect, and will notice if it's doing something strange.
Thanks!
Also, as I mentioned in my blog post a couple of weeks ago, now that I've released the first update to the web version of C3O, I'm going to be working on both mobile and web updates in parallel. The next update I have planned for the web version is to let the map author choose where you spawn at the beginning of the game – instead of always being the centre of the map as it is now.
cya,
Saxon