Hi everyone,
After 5 months of development, the new update for Zombie Outbreak Simulator for iOS is now available!
The main change in this update is that I've finally brought back Google Maps! The very first version of iZOS released in April last year had one Google map, and the first update released a few weeks later expanded that to 10 Google maps. Then in June Apple announced that they were removing Google Maps with iOS 6, so in September we released an update which removed the 10 Google Maps and replaced them with 5 embedded maps using aerial photos.
In December last year Google released a new maps SDK for iOS. My initial experiments didn't work out, but I kept trying different approaches to get it to work, and eventually figured something out. It's taken me a few months to go from proof-of-concept to finished app, but it's finally here!
So now you can choose from the 5 offline maps included in the last version, or 15 online Google maps. The Google maps include 8 of the maps in the update from last year (two of them had to be removed), and 7 new maps.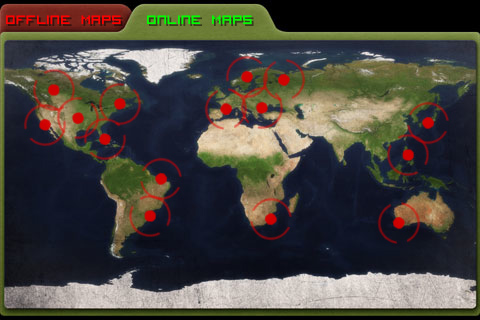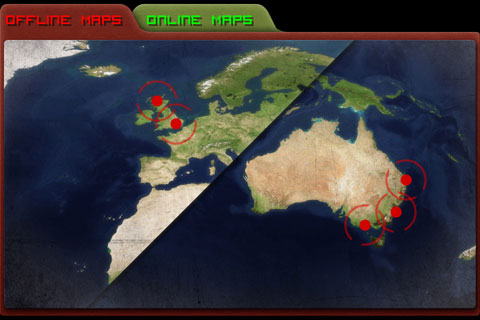 The 15 Google maps include one map by me and one by Jay (the one from the original release of iZOS). Many thanks to Bruul, Bryan Earhart, Budace, Carlos Miguel Ambrosio, Coinsruledude, Fernando Bevilaqua Vianna, Jas358, PullMull, Rob Bekkers, Rodrigo Casarini and Tyrud for creating the other 13 maps!
Also thanks to Shath Maguire who did the graphic design for the new map selection screens.
The other most obvious change in this version is that I've decided to provide infinite bombs for free! We added the bombs as an experiment back in June last year, and as of the last update you would receive 100 Mk81 and 10 Mk82 bombs for free every hour, with more bombs available via in-app purchases. It was an interesting experiment, but from now on you can rain fire on the unsuspecting zombie horde without worrying about your bank account :)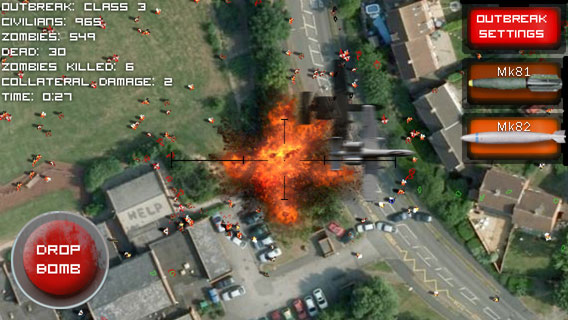 The final major change in this version is that it now also includes a translation into Brazilian Portuguese! Many thanks to Fernando Bevilaqua Vianna for offering to translate it for me :)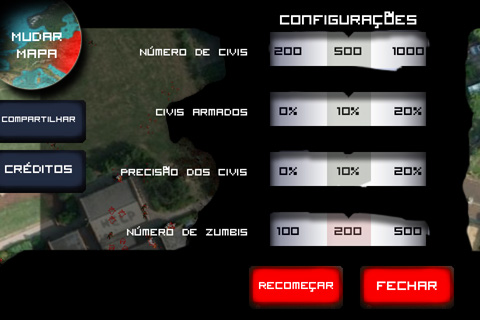 The new Google Maps SDK for iOS which this version of ZOS uses doesn't support iOS 4.x. Previous versions of iZOS supported back to iOS 4.0, but due to Google Maps I've had to increase the minimum supported version to iOS 5.0. According to my Flurry analytics, in the last month about 4% of players of iZOS and about 3% of players of iZOS Free were using iOS 4.x. If this is you – sorry! You should be able to keep using the old version of iZOS, if you don't want to upgrade your version of iOS.
A few months ago I mentioned that I wasn't able to get iZOS to work with the new Google Maps SDK on the iPad 1 – it would keep running out of memory and crashing. However, I've managed to keep iZOS alive on the iPad 1 by using Apple's version of Google maps, instead of Google's new SDK. This works because the iPad 1 can't be upgraded to iOS 6, so the in-built maps are still Google Maps. According to Flurry, about 3% to 4% of players of iZOS and iZOS Free are playing on an iPad 1 – I hope you like the update :)
Finally, thanks to the approx 30 people who beta tested this update for me over the last month or so. Thanks in particular to Chris, Max, Ryan and Clayton who helped me track down some bugs!
cya!
Saxon