It's been nearly a year since the release of the original Zombie Outbreak Simulator in late November last year, and about 7 months since we released Class 3 Outbreak (C3O) in April this year.
The original version of C3O included two maps, in Washington DC and Leicester England, covering a total area of around 1.25 square kilometres. We figured that the other 150 million square kilometres of land on Earth deserved to experience a zombie apocalypse too!
So since the last release we've started work on a new version of C3O. This version includes an editor, which lets you choose anywhere in the world (where the Google Maps® image quality is good enough), draw in the locations of walls, buildings, trees etc, and then send in the zombies. So you can watch as zombies take over your house, work, school, wherever!
Here is what the editor currently looks like:
Once you've edited a map, you can click Publish and your map becomes available as a marker on the home page, for anyone to play: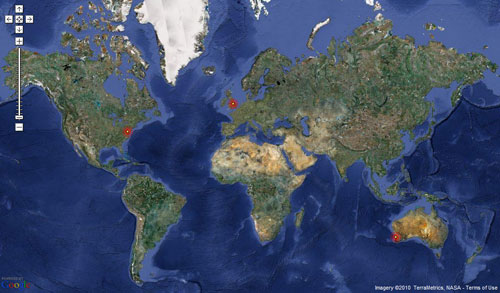 Click a marker, and you've got instant zombie mayhem: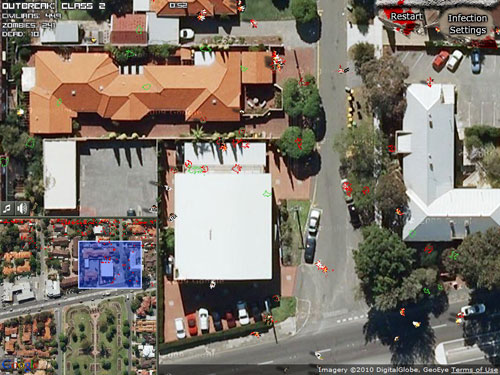 After several months of development we're now at the stage where we are ready to start closed beta testing. So we're putting out a call for beta testers!
The current version is a very early release – there's still plenty more for us to do during the beta testing phase, before we're ready for a public release. Also, this version can currently only play the Zombie Outbreak Simulator on custom maps. We will be adding the ability to play games like C3O, and lots more game features, soon.
If you would like to be part of the beta, send us your email address via our contact page, and we'll send you details on how to log in. You can also keep an eye on our forums, for updates on our progress.
Jay and I are looking forward to seeing what kinds of maps you build!
cya,
Saxon